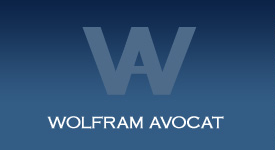 Welcome
WOLFRAM Law Office has mainly a practice on the following fields :
General Business, Corporate & Commercial Law – Legal assistance and advice:
- Companies law – French and multinational corporate law – cross-border
operations – mergers & acquisitions – assistance to management;
- Contract law – distribution agreements – assistance to contractual negotiation in
English, French and German language;
- International trade Law;
- Commercial litigation (French and international) and representation at all French
Courts.
IT Law practice – Information Technology Law:
- Communications Law – Intellectual Property- licensing – IT/ Computer law.
Anglo-Saxon and German Relationship:
- Legal assistance to French subsidiaries of international groups;
- Legal advice to foreign individuals living in France;
- Legal advice to foreign legal representatives and officers working in France;
- OHADA- Law (African trade Law) ;
- Consultant – IFEJI Expert (The French Institute of International Legal Experts).