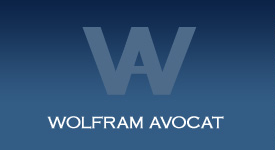 Practice Areas
WOLFRAM law firm supports your company during all phases of its life, in particular  its constitution, its development in France and in the international field, its growth,  its strategic and commercial partnerships.
We support all the  commercial aspects linked to the company such as commercial property assignment ("fonds de commerce"), agency contracts and franchise.
Our litigation experience allows us to assist our clients in the litigation procedures in front of the commercial courts.
WOLFRAM Law has mainly a practice on the following fields :
• Corporate Law , Business & Contract Law Legal assistance and advice in general business, corporate & commercial Law
- Companies law – French and multinational corporate law – cross-border operations – mergers & acquisitions – due diligence;
- Contract law – distribution agreements – assistance to contractual negotiation in English, French and German language; – International trade – international private Law; – Commercial litigation (French and international) and representation at all French Courts.
• New Information Technologies Law and  Intellectual Property Law IT Law practice – Information Technology Law -
- Communications Law – Intellectual Property- licensing – IT/ Computer law.
• International and French-German Affairs Anglo-Saxon and German Relationship:
- Legal assistance to French subsidiaries of international groups;
- Legal advice to foreign individuals living in France;
- Legal advice to foreign legal representatives and officers working in France;
- OHADA- Law (African trade Law) ;
- Consultant – IFEJI Expert (The French Institute of International Legal Experts).